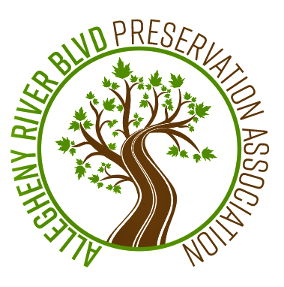 The Penn Hills CDC is proud to be supporters of and fiscal partners with the Allegheny River Boulevard Preservation Association.
Allegheny River Boulevard, which has been determined a National Register eligible Historic District, was designed and built during the City Beautiful Movement of the 1920s/30s. It was a beautifully planned and landscaped riverside parkway with Observation Turnouts that took advantage of scenic vistas, aesthetic plantings, and designed opportunities to view the river. Over its nearly six miles in length, the Boulevard passes through the communities of Pittsburgh, Penn Hills, Verona, and Oakmont, following the northward meander of the southern bank of the Allegheny River.
This picturesque roadway has been listed as a "Pennsylvania at Risk" property and was named in 1994 by Scenic America as one of America's 10 Most Endangered Scenic Byways because of a lack of stewardship that has allowed some of the road's significant features to deteriorate, including the stone Observation Turnouts, scenic views, historic trees, aesthetic vegetation, and bridges.
ARBPA's Mission:
"To restore, preserve and enhance the natural and built environments of the historic Allegheny River Boulevard scenic roadway by working with all interested parties to steward and improve the traveling experience of the communities and visitors of the Allegheny Valley."

For more information about ARBPA: